On July 3rd morning, the sun was shining brightly. In the roomy factory of Yifan Machinery, an orange mobile jaw crusher pulled out the gate of Yifan machinery slowly with the truck-tractor. This mobile jaw crusher will go abroad and reach at Oceania. It is the sixth time that Yifan Machinery mobile crusher arrives at Oceania. After the strict quality verification of Yifan Company, this new-type mobile crusher is delivered to foreign customers.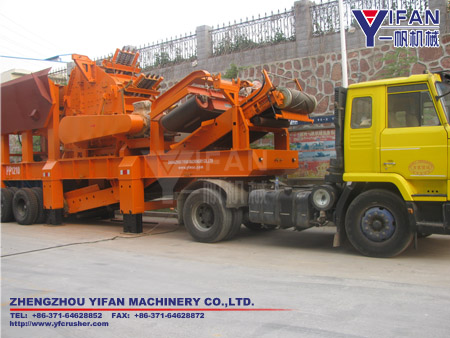 Yifan Machinery mobile crusher, which owns proprietary intellectual property rights, is a kind of novel rock crushing equipment. It greatly expands the concept of coarse crushing work. Its design principle is that standing in the position of customers, taking the elimination of the obstacle of the crushing site and condition for customers' crushing work as the primary solution, and providing the hardware facility of project operation with high-efficient and low cost for customers. This mobile crusher equips with high-end PE Series crushers and the integrative feeder machine and vibrating screen, the integrative vehicle-mounted installation of belt conveyor, vibrating screen, and crusher. It is convenient to highway transportation and to go deep into the work site. Vehicle-mounted installation supports the equipment site to station quickly and conveniently. Vehicle-mounted motor and control cabinet are integrative.

Yifan Machinery mobile crusher not only brings the more efficient production capacity and service quality for customers, but also leads the development of crushing industry in domestic.
Message Online