Mobile Crushing Plant
[
print
] [
collection
]
Mobile Crushing Plant
is convenient,flexible and strong in mobility, so it can save a large construction capital and relocation. Raw Materials can be broken at the locale without being transported again, and also can be moved with the promotional exploitation of the raw material, which saves a large number of transportation costs. On the basisof the professional technology, we optimize and introduce newly two large and three small series crushing and screening equipment.
Mobile Crushing Plant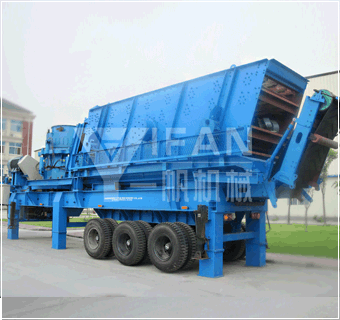 The mobile series is tracked crushing plant, and the portable series is tyred crushing plant. Each large series are divided into three series: rough, middle and fine crushing and screening mobile plant. Therefore, it can fully adapt to the various mobile crushing and screening, which creates more new business opportunities for customers while reducing the cost of the production.
Mobile Crushing Plant Features :
1. Reliable performance, Convenient maintenance
2. light weight, strong mobility
3. Flexible combination, strong adaptability
Technical Data:
PP VSI PLANTS
PP5000VSI
PP5000VSIS
PP6000VSI
PP7000VSI
Transport dimensions
Length(mm)
98000
11280
10180
11180
Width(mm)
2460
2780
2780
27890
Height(mm)
4200
2500
4200
4316
Weight(kg)
21600
32000
24600
33650
Axle weight(kg)
14600
18800
16500
23263
King pin weight(kg)
7000
13200
8100
10387
VSI CRUSHER
Model
VI-5000
VI-5000
VI-6000
VI-7000
Feed opening(mm)
65(80)
65(80)
80(100)
80(100)
throughput capacity range(t / h)
80-150
80-150
120-250
140-250
Screen
Model
3YK1545
Belt conveyor
Model
B650×6.5
B800×7
B1000×7.2
The design idea for PP Series Portable Crushing and Screening plant is to totally meet the different requirements of mobile crushing function. This can provide a whole new operation mode that greatly decreases the operation cost.

Mobile Crushing Plant PDF Download (43 Kb, 6 June 2006)

Mobile Crushing Plant PICTURE Download (144 Kb, 6 June 2006)
Message Online
-
Return
- -
Top
-