Sand production line introduction:
Sand production line is devoted to the production of artificial sand, with finished sand grain shape good, into sand high rate, fineness modulus can adjustable , and low production costs. Sand production line is especially suitable for river gravel, limestone, granite, stone chips and other artificial rocks and mine tailings sand. Sand production line equipment: vibrating feeder, jaw crusher, sand making machine, vibrating screen and belt conveyor and so on. Depending on the process requirements, the combination of various types of equipment to meet customer requirements of different processes.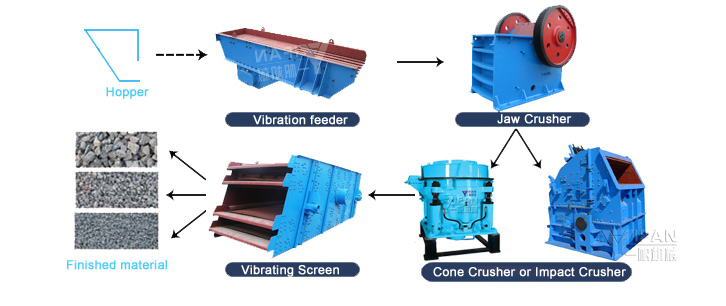 Sand production line
Sand production line works:
Sand production line mainly consists of vibrating feeder, jaw crusher, impact crusher, vibrating screen, sand making machine, belt conveyor and centrally electric controlling mechanisms sand equipment. To meet the processing needs of different customers, can be equipped with cone crusher, dust removal equipment. Chunks of stone by the hopper evenly sent by the vibrating feeder jaw crusher for primary crushing, crushing stone after by belt conveyor to a crusher for further crushing, crushing stone after the belt conveyor sand sent for further crushing and shaping, shaping the stone by the belt conveyor sent vibrating screen for screening, screening out several different specifications of gravel, sand and gravel to meet the size requirements sent by the belt conveyor sand washing machine, washing powder sand in the dirt, dehydration, sent after the finished grade stockpile, does not meet the size requirements of the stones by the belt conveyor feed back to be re-sand crushing, shaping, forming a closed circuit multiple cycles.
Sand production line uses:
Sand production line high degree of automation, low operating costs, high crushing ratio, energy saving, large output, less pollution, easy maintenance, sand production line to produce the mechanism of sand in line with national standards for construction sand, uniform size, grain shape is good, with reasonable level . Sand production line is widely used, its performance has reached international advanced level, is the most effective, practical and reliable gravel machine, especially suitable for the production of abrasives, refractories, cement, quartz sand, grit, slag powder, copper stone, iron ore, gold ore, concrete aggregate, asphalt aggregate and other hard, brittle materials and finely minced, is a highly efficient, energy-saving gravel sand making equipment, 50% energy saving than traditional sand making , is the world's advanced sand making equipment at present.
Sand production line work features:
[1] High crushing efficiency, finely Pided, coarse grinding function.
[2] Structure is simple to install, easy maintenance, low running costs.
[3] By a strong non-broken material capabilities, little affected by the moisture content of the material, the moisture content of up to 8%.
[4] Grain-based products is excellent, cubic, flakiness content is very low, suitable for aggregate shaping, artificial sand and stone to take highway specifications; big bulk density, low iron pollution
[5] Operating noise below 75 decibels (db level), less dust pollution
Finished sand and gravel Features:
[1] Finished sand particle shape;
[2] Finished sand gradation and fineness modulus is adjustable;
[3] Finished sand indicators in line with national standards, is the quality of the concrete aggregate;
[4] Low cost of production of finished sand, good benefits.
Message Online