CCM Hydraulic Cone Crusher
[
print
] [
collection
]
Yifan Machinery in research SDY spring cone crusher, SMH series Hydraulic cone crusher After that, have developed a new type of SMG hydraulic cone crusher and CCM series Full Hydraulic cone crusher. Full Hydraulic cone crusher combined with Germany's most advanced crushing technology, in crushing hard, medium hard ore above aspects, with superior performance.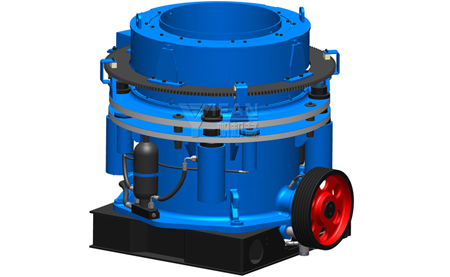 CCM Series Full Hydraulic Cone Crusher

Yifan Machinery CCM series Full Hydraulic cone crusher product features the following advantages:
CCM series hydraulic cone crusher is used in a fixed spindle, this structure enables the machine to various parts of the force are in a more reasonable range, there is a greater eccentricity and speed, so that the crusher higher yields. Meanwhile cone machine locking device can also be controlled via the hydraulic, which means you can just step to complete the work complete. This setting is also greatly reduces the labor saving machine downtime, but also enhance the reliability of the equipment.
CCM series has been optimized for the cavity treatment, its unique crushing chamber yield with a comprehensive upgrade.
CCM series hydraulic cone crusher has a more stable single-acting cylinder, crushing ratio greater feed deeper.
CCM series uses a hydraulic oil, it can not only better protect the crusher parts, but also reduces the load hazards.
CCM series Full Hydraulic cone crusher base of the new integrated design simplifies the installation of the machine, allowing users in the use of saving a lot of time.
CCM series Full Hydraulic cone crusher to provide users with a convenient and cavity clearing machine settings, because it uses the insurance and cleaning chamber mechanical oil independent mode, so the cone crusher hydraulic system is safe and reliable.
Message Online
-
Return
- -
Top
-