stone crusher is one of the most widely used machines currently .It can be used in smelting ,mining ,construction ,railroad ,highway ,water conservancy and chemical industry ,etc.In order to fully improve working efficiency and avoid the stone crushing working overtime ,here experts of Zhengzhou Yifan Machinery give you some practical and usefull tips while using .If you have any doubts ,feel free to contact our on-line customer service .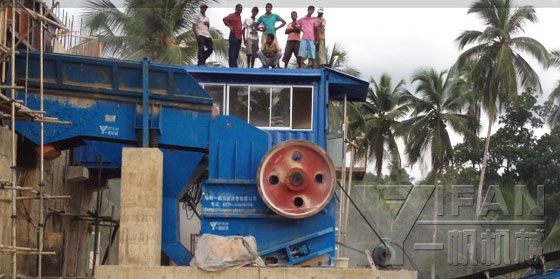 As to the crushing machine itself ,first ,a reasonable number of revolution can effectively improve the production efficiency ,this number couldn't set too high ,otherwise ,materials been crushed couldn't discharge timely and stacked in the crushing cavity which will cause jams and lower production efficiency ,electric energy will increase undoubtedly .Secondly,adjust the discharge mouth while make sure the product granularity ,make the angle between dynamic jaw and fixed jaw is in the optimal range .Thirdly ,you should pay more attention to the lubrication and replacement of the wearing parts to make sure the every part is in best condition.
On the other hand , the materials like stones and rocks shouldn't be too damp so that they won't adhere to the crush cavity and affect material feeding ,so before feeding damp materials into the mouth ,you should take measures to lower its moisture .In a word ,you should pay more attention to details in the daily operation of the machine so that it can function steadily and efficiently .
Zhengzhou YIFAN not only offers various stone crushing with different configurations, but also a full range of crushing and screening equipments,including hydraulic cone crusher,impact crusher,vertical shaft impact crusher vibrating screen and mobile crushing and screening plants with first-rate services .
Message Online