Sand making machine
(vertical shaft impact crusher) is the major equipment for producing manufactured sand. Yifan Machinery sand making machine is applied to aggregate shaping and crushing for soft,medium hard and extra-hard materials, and has the function of fine crushing and rough grinding. It is widely used in all kinds of ores, cement, fireproofing, silicon carbide, glass raw materials, building aggregate, manufactured sand etc.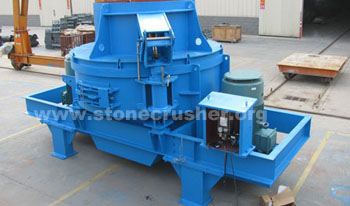 In the field of engineering, it is the ideal equipment for manufactured sand, bituminous concrete aggregate and cement concrete aggregate. In the field of mining, it is widely used in grinding forepart craft,and produce a mass of ore fines, thus reduces the high cost of grinding load. Yifan Machinery supplies the sand making machine for the largest civil manufactured production line (400t/h manufactured sand production line of Zhejiang Richangsheng Building Materials Co., Ltd). The high quality aggregate which is produced by Yifan Machinery has been used in the national heavy construction. Yifan Machinery supplies the VSI-8000 vertical shaft impact crusher (sand making machine) for Beijing Ruicheng Group. The gravel manufactured sand production line, which has been built by this crusher, is used to supply the extension project of the Capital Airport. The turnkey project of gravel building materials production line, which is supplied to Zhuozhou in Hebei, adopts VSI-8000 to produce manufactured sand and aggregate shaping. Its superior quality aggregate is used in the concrete mixing plant of Beijing Urban Construction Group, the National Grand theater etc.
Yifan Machinery is not only the leader at home, but also exports to Australia, Russia, Mongolia, Chile, Central Asia, Western Asia and other countries and regions. Because of the excellent quality and service, Yifan Machinery crushing and screening equipment gains the good reputation at abroad.
Message Online